ATLANTA-Jay Hanna Dean, Robert Moses Grove, Jack Roosevelt Robinson, John Peter Wagner and Denton True Young were among 20 famous individuals honored today on new commemorative postage stamps issued by the U.S. Postal Service. To baseball fans around the world, these legends are better known as Dizzy Dean, Lefty Grove, Jackie Robinson, Honus Wagner and Cy Young.

The Legends of Baseball stamps were officially dedicated and issued today at International Plaza in conjunction with the "Club MLB Road Show Presented by Jif Smooth Sensations" and Major League Baseball's 2000 All-Star Week, which concludes July 11 with the 71st All-Star Game at Turner Field.

The new stamps will be available starting today at Atlanta post offices and at the Club MLB Road Show venue and, beginning July 7, at post offices nationwide. The stamps will also be available at a special Postal Service retail booth at the John Hancock All-Star FanFest - one of the main attractions of All-Star Week - from July 7-11 at the Georgia World Congress Center.

"With the Legends of Baseball stamps, we're bringing together two American traditions that have universal reach and appeal. Just as the Postal Service delivers mail to every American, everywhere, every day, baseball is played by children and adults in virtually every village, town and hamlet," said S. David Fineman, member of the Postal Service Board of Governors, who dedicated the stamps.
"For the first time in the history of Major League Baseball, or any other professional sports league, the Postal Service has honored a sport by dedicating an entire set of stamps to our national pastime and its players," said Kathy Francis, Vice President of Marketing, Major League Baseball.

In addition to Dean, Grove, Robinson, Wagner and Young, the self-adhesive pane of 33-cent stamps features Ty Cobb, Roberto Clemente, Mickey Cochrane, Eddie Collins, Jimmie Foxx, Lou Gehrig, Josh Gibson, Rogers Hornsby, Walter Johnson, Christy Mathewson, Satchel Paige, Babe Ruth, George Sisler, Tris Speaker and Pie Traynor. These players were honored last season as part of Major League Baseball's "All-Century Team" program.Joining Fineman and Francis at the first day of issue ceremony was Hank Aaron, a member of both the Baseball Hall of Fame and the Major League Baseball All-Century Team. Honored guests included relatives, or estate members, of 15 of the players featured on the stamps, including Roberto Clemente Jr. and Luis Clemente; Shirley E. Cobb; Father William Cantrell (Dizzy Dean Estate); George Pollack, Esq. (Lou Gehrig family); Josh Gibson Jr. and Shawn Gibson; Wayne Craig (Lefty Grove family); Rogers Hornsby III and Rogers Hornsby IV; Carolyn Johnson Thomas and Henry (Hank) Thomas (Walter Johnson Estate); Laura Peck (Christy Mathewson family); Warren Paige and Pam O'Neal; Rachel Robinson and Sonya Pankey; Julia Ruth Stevens, Tom Stevens and Ron Tellefsen (Babe Ruth Estate); Dorothy Sisler and Rick Sisler; Michael Dale Helmer and Robert Helmer (Pie Traynor family); and Leslie A. Blair (Honus Wagner family).

As a member of the Indianapolis Clowns of the Negro American League and the Milwaukee Braves and Atlanta Braves of the Major League Baseball National League, Henry Louis Aaron was one of the most complete players of his era and among the best in history.

Aaron hit more than .300 14 times, winning batting titles in 1956 and 1959, when he set a career high with a .355 average. He led the National League in home runs four times, and while he never hit more than 50 homers in a season, his power and runs-batted-in production were extremely consistent. He broke Babe Ruth's home run record by hitting his 715th home run in 1974 and finished his career with a record 755.

Following his retirement in 1976, Aaron remained active in the Braves organization as a front office executive. Today, in addition to his Braves duties, he heads the "Hank Aaron Chasing the Dream Foundation," which provides financial assistance through its awards program to young people with limited opportunities to help them pursue their dreams.

225 million Legends of Baseball stamps were printed. The artist was Joseph Saffold of Savannah, Ga. Phil Jordan, of Falls Church, Va., was the art director.

For more information on U.S. stamps, or to order the Legends of Baseball stamps and many other stamps and philatelic items, visit www.stampsonline.com. Stamps can also be ordered toll-free by calling 1 800 STAMP-24.

LEGENDS OF BASEBALL COMMEMORATIVE STAMPS

Roberto Clemente
The first Hispanic elected to the Hall of Fame, Roberto Clemente was admired for his superb hitting, rifle-like arm, and philanthropic spirit. He helped the Pittsburgh Pirates win two World Championships.

Ty Cobb
Known for his aggressive style at the plate and on the base paths, Ty Cobb may have been the greatest all-around player in Major League Baseball. In his 24-year career, 22 with the Detroit Tigers, the "Georgia Peach" won 9 straight American League batting titles.

Mickey Cochrane
Mickey Cochrane sparked the Philadelphia Athletics' championship teams of 1929-1931 with his potent bat, skill behind the plate, and fierce, competitive spirit.

Eddie Collins
Eddie "Cocky" Collins played the game of baseball for 25 seasons, a 20th-century record for nonpitchers. His brilliant baserunning and batting helped four teams win World Championships.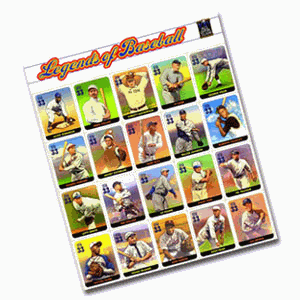 Issued July 6, 2000,
Atlanta, GA


Dizzy Dean
Dizzy Dean, fastball-throwing member of the St. Louis Cardinals' "Gas House Gang," was a legend in his own time, once holding the modern single-game record of 17 strikeouts. In 1934 he and brother Paul led the Cardinals to the World Championship.

Jimmie Foxx
One of the top Major League Baseball sluggers of all time, Jimmie Foxx hit 30 or more home runs for 12 seasons in a row. Foxx won the Triple Crown for the Philadelphia Athletics in 1933, leading the American League in home runs, batting, and RBIs.
Lou Gehrig
First baseman for the New York Yankees, Lou Gehrig played in 2,130 consecutive games. In 1934 the "Iron Horse" led the American League in batting average (.363), home runs (49), and RBIs (165).
Josh Gibson
Among the biggest draws in the Negro Leagues, popular Josh Gibson is generally considered one of the most prodigious power hitters in the history of professional baseball.

Lefty Grove
One of the finest left-handed pitchers in the history of Major League Baseball, Lefty Grove went 31-4 for the 1931 Philadelphia Athletics. In the process, he put together a 16-game winning streak.

Rogers Hornsby
Rogers Hornsby was the most impressive right-handed hitter in the history of the game. He won seven batting championships (six in a row) and managed the 1926 St. Louis Cardinals to their first World Championship.

Walter Johnson
Walter "Big Train" Johnson used a sweeping sidearm motion to fire fastballs over home plate. In his 21-year career with the Washington Senators, he fanned 3,509 batters, won 417 games, and pitched a record 110 shutouts.

Christy Mathewson
In 1901, 21-year-old Christy Mathewson won 20 games for the New York Giants. With his "fadeaway" pitch, he posted three consecutive 30-victory seasons and in the 1905 World Series threw three shutouts in only six days.

Satchel Paige
A legend after two decades in the Negro Leagues, pitcher Satchel Paige signed with the Cleveland Indians in 1948. At age 42, this "veteran-rookie" helped his team win the American League pennant.

Jackie Robinson
Jackie Robinson broke the Major League Baseball color barrier when he came to the Brooklyn Dodgers in 1947. Two years later, he hit a league-leading .342, drove in 124 runs, and was voted the Most Valuable Player in the National League.

Babe Ruth
Babe Ruth was the most celebrated athlete of his time. Before beginning play with the New York Yankees in 1920, the "Sultan of Swat" was a successful pitcher for the Boston Red Sox. In 1927, he hit a record-setting 60 homers.

George Sisler
The St. Louis Browns' George Sisler won two batting titles, set the record for hits in a season, and produced a 41-game hitting streak-all while maintaining a reputation as one of the true gentlemen in Major League Baseball.

Tris Speaker
Tris Speaker revolutionized outfield play by positioning himself in shallow center field. As a result, this Cleveland Indian recorded more assists than any other outfielder in the long history of Major League Baseball.

Pie Traynor
Rated as one of the finest third basemen of all time, the Pittsburgh Pirates' Pie Traynor had a defensive prowess that often overshadowed his strong hitting. His nickname reportedly came from a childhood fondness for pastry.

Honus Wagner
The Pittsburgh Pirates' star shortstop, Honus Wagner also was a league-leading batter and base stealer. The "Flying Dutchman" enjoyed 15 consecutive .300 seasons, 8 as the National League batting champ.

Cy Young
Denton True Young, nicknamed Cy (short for "Cyclone"), won 511 games in his 22-year Major League Baseball career - almost 100 more than any other pitcher. A durable athlete, Young pitched an astonishing 749 complete games.