"Daffy Duck Day" Declared in Hollywood April 16
WASHINGTON - Daffy Duck will finally get the respect he longs for on April 16 when a U.S. postage stamp is dedicated in his honor and "Daffy Duck Day" is declared in Hollywood to commemorate the event.

Johnny Grant, Ceremonial Mayor of Hollywood and Chairman of the Hollywood Walk of Fame, will declare the day as "Daffy Duck Day" when he joins Tirso del Junco, M.D., member of the Postal Service's Board of Governors, and Dan Romanelli, President, Warner Bros. Consumer Products at the 10:00 a.m. dedication event. The ceremony will take place in the courtyard of Mann's Chinese Theater and will feature the stamp being unveiled on the background of a world famous Hollywood Walk of Fame star.

Daffy is the third Looney Tunes character to be featured on a U.S. stamp joining his animated arch-rival, Bugs Bunny, and the loveable cat and canary team of Sylvester & Tweety.

"The immortalization of Daffy Duck will be completed with this unprecedented event," said del Junco. "As the Postal Service seeks to broaden the appeal of the stamp program, Daffy and his Looney Tunes pals have helped introduce a new generation to the entertaining and educational hobby of stamp collecting."

Added Romanelli, "We're delighted to celebrate this momentous occasion as Daffy Duck receives the recognition he so strongly believes he deserves. We are confident that Daffy will take his place alongside Bugs Bunny and Sylvester & Tweety in delivering his signature wit to kids and collectors of all ages."

The 33-cent stamp features Daffy leaning against a rural mailbox with his trademark "that's despicable" look directed towards two letters in the mailbox which have the Bugs Bunny and Sylvester & Tweety stamps affixed. More than four hundred million of the self-adhesive stamps have been printed.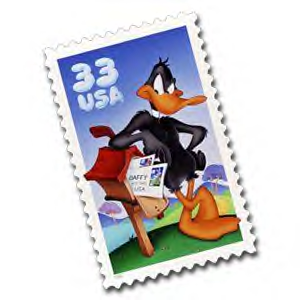 Issued April 16, 1998,
Los Angeles CA 90001


Daffy Duck made his debut in the black-and-white cartoon Porky's Duck Hunt.

A crazy little quacker who entertains viewers with his child-like innocence, Daffy has become, over the years, a bit more sophisticated and articulate as he tries to win fame and success at any cost.

Daffy joins other Looney Tunes characters in helping promote stamp collecting through the Postal Service's youth program, Stampers. With nearly two million members, Stampers has become the Postal Service's most popular stamp collecting-based program of all-time. Members receive free mailings which include magazines, posters, and other educational items to help them start their own stamp collection.

A collectible pictorial cancellation commemorating the stamp dedication will be offered at the event.