WASHINGTON - Famed film director Alfred Hitchcock took center stage today when a U.S. postage stamp bearing his likeness was issued in conjunction with a retrospective on his works.

"My fathers legacy will be preserved forever in American film and of all the awards he has received for his work, he would be most honored to be immortalized through America's stamp program," said Hitchcocks daughter, Patricia.

Ms. Hitchcock joined Jean Picker Firstenberg, Director and CEO of the American Film Institute (AFI) and John Wargo, the Postal Services Vice President, Customer Relations, to officially dedicate the stamp, which kicked off an evening retrospective of the directors work. The evening event took place at the Directors Guild of America in Los Angeles, Calif.

Entitled "Alfred Hitchcock: What is the Legacy of the Master of Suspense?," the retrospective was hosted by AFI, the Directors Guild of America, and the U.S. Postal Service. Moderated by Time Magazines film critic, Richard Schickel, participants included Ernest Lehman, who wrote North By Northwest (1959); Norman Lloyd, who produced and directed episodes of the television series Alfred Hitchcock Presents; and Bryan Singer, whose second feature film The Usual Suspects won Academy Awards for Best Screenplay and Best Supporting Actor. Veteran actor Karl Malden, whose credits include Hitchcocks I Confess (1953), was also on hand for the event. Malden is a member of the Postal Services Citizens Stamp Advisory Committee.

"Hitchcock understood fully how to put an audience on the edge of their seats. Whether it was terror, suspense, or even love, he knew how to make us not only see it, but feel it, said Wargo. "Since 1995, weve paid tribute to three charismatic and gifted stars of the silver screen, Marilyn Monroe, James Dean, and Humphrey Bogart. Now we add to that list one of the greatest directors of all time."

Firstenberg added: "Alfred Hitchcock was unquestionably one of the most influential directors in American movie history, setting the standard for an entire genre of film. The Postal Service has once again made the perfect choice, and AFI is proud to continue to be a part of their celebration of the great film artists our nation has produced."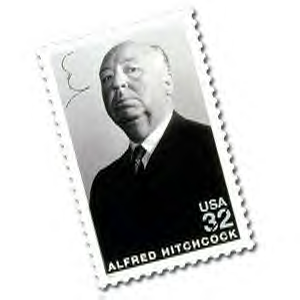 Issued August 3, 1998
Los Angeles, CA 90001


AFI is the preeminent national organization dedicated to advancing and preserving the art of film, television, and other forms of the moving image. In 1979, Hitchcock received the prestigious AFI Life Achievement Award and, most recently, four of Hitchcocks works were named as part of AFIs "100 Years...100 Movies" celebration of the first century of American film. The dedication of the Hitchcock stamp marks the third time AFI has worked with the Postal Service on the "Legends of Hollywood" series. Previously, AFI helped launch the James Dean and Humphrey Bogart stamps.

Hitchcock joins Bogart, Monroe, and Dean as part of the Postal Services continuing tribute to individuals who made a major contribution to the legacy of American films. The stamp features a black and white photo of Hitchcock with his trademark caricature over his right shoulder. For the first time ever on a U.S stamp, an element within the stamp Hitchcocks caricature is specially perforated.

Master of the thriller genre, Alfred Joseph Hitchcock (1899-1980) was also a brilliant technician who deftly blended sex, suspense and humor. He began his filmmaking career in 1919 illustrating title cards for silent films at Paramount's Famous Players-Lasky studio in London. After directing his first film, The Pleasure Garden (1925), Hitchcock went on to direct several successful films in England. His first American feature, Rebecca (1940), earned an Academy Award for Best Picture. Widely acknowledged as the master of suspense, Hitchcock directed more than 50 films including Rear Window (1954), Vertigo (1958), North by Northwest (1959), Psycho (1960) and The Birds (1963).