WASHINGTON - The beauty and complexity of North America's wide open spaces will be commemorated April 19 when ten new postage stamps depicting the Great Plains prairie are issued by the U.S. Postal Service at the University of Nebraska State Museum in Lincoln, Neb.

The first day of issue ceremony for the Great Plains Prairie stamps will kick off three days of grassland celebrations and education activities. The stamps will be dedicated at 10:30 a.m. inside historic Morrill Hall, located on the University's main campus.

The Postal Service's partners for the event are the Nebraska Audubon Society, the Lincoln Stamp Club, the National Wildlife Federation and the University's Center for Grassland Studies and Center for Great Plains Studies.

The Great Plains Prairie stamp pane is the third in an educational series titled "Nature of America." The series promotes appreciation of North America's major plant and animal communities. Printed in a souvenir sheet format, the pane contains ten self-adhesive 34-cent stamps concealed in a colorful scene full of wildlife and native plants. The previous issuances in the Nature of America series were Sonoran Desert (1999) and Pacific Coast Rain Forest (2000).

The prairie stretches from the edge of the eastern woodlands and oak savannas to the foothills of the Rocky Mountains. Many people often underestimate the prairie's complexity and significance as an ecosystem. An important part of the American landscape, the American prairie is one of the largest grasslands in the world.

The fertile soils of the American prairie have supported farmers and ranchers in the midwestern states for more than a century. The cultivation of crops and grazing of cattle have altered the prairie, but patches of native vegetation remain.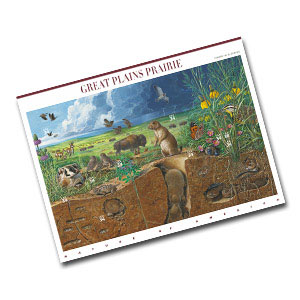 Issued April 19, 2001,
Lincoln, NE 68501


Painted by John D. Dawson of Hilo, Hawaii, the artwork includes 25 animal and plant species native to the mixed-grass prairie of the American Great Plains. The artwork illustrates both the immense scale of the ecosystem and the individual environments of many important species. While the scene is imaginary, all species represented are appropriate and were recommended by scientists. A description of the prairie and a list of the common and Latin names of the plants and animals included in the art appear on the back of the stamp pane.